How to retrieve NPC application ID and other NPC applications questions have been answered in this article. Read on.
Did you apply for the National Population Commission (NPC) for the 2023 census exercise and by any chance you lost your NPC Application ID or Access Code?
Are you trying to check your application status on the NPC website and you couldn't because you have misplaced your NPC Application ID or Access code?
If you are facing this issue then read through. We will also provide answers to most questions you have been asking concerning your NPC application questions.
You can also check for the NPC Shortlisted Candidates PDF file released recently.
How to retrieve NPC application ID or Access Code if you lost or forgot it
If you forgot your NPC application ID or Access code, you can make use of your National Identification Number (NIN) to retrieve it.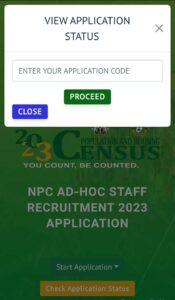 Visit the NPC website, click on Check Application Status and enter your NIN and click on Proceed to retrieve your NPC application ID or Access code.
Can I change my application from NPC Staff to NPC Adhoc staff?
This is impossible. Once you have selected one, you can't go back.
Can I edit my application after submission?
Absolutely not. You can't.
What do I do after my application is completed and submitted?
Once your application is completed, all you have to do is check your application status. If it says "Pending" then wait till you receive an email from NPC for the next step to get approved.
At the moment, only special workforce and facilitators are receiving approved from the NPC management.
If you chose data quality assistants, data quality managers, training centre administrators, monitoring and evaluation officers, enumerators and supervisors, you are expected to wait for further instructions for the next step from the NPC before you are approved.
How do I check my Application Status?
Visit the NPC website, scroll down and click "Check Application Status" and input your NIN or your application ID or Access code to check your status.
Keep checking our website for more updates. You can also use the below comment box to ask your questions, which will be answered immediately.
How else can I always receive updates from inform.ng?
You can sign up for our newsletter to always receive all our updates directly to your email; you can also follow our Twitter and Facebook pages; and you can also subscribe to our Telegram channel while also joining our WhatsApp group. Follow any of the below links.