This is to inform the entire public that applicants who are still interested in applying for the 2023 NPC recruitment exercise can still rush now and do so, because the NPC portal for recruitment is still open as at Tuesday, January 3, 2023.
The 2023 National Population Commission recruitment online portal was opened on October 31, 2022 and the NPC portal closing date was meant to be on Wednesday, December 28, 2022.
But as at today, January 3, 2023, the portal for the 2023 NPC recruitment is still very much open to receive new applications.
How to apply for the 2023 NPC recruitment in the online portal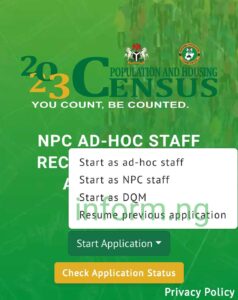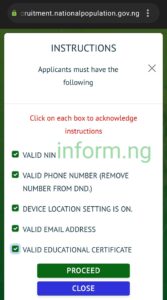 Visit the NPC website and click on Start Application. When it opens, select Start as ad-hoc staff to proceed. Mark Valid NIN and others and click on Proceed to continue.
You can also check for the NPC Shortlisted Candidates PDF and also how to retrieve NPC application ID if you forgot it.
Keep checking our website for more updates. You can also use the below comment box to ask your questions, which will be answered immediately.
How else can I always receive updates from inform.ng?
You can sign up for our newsletter to always receive all our updates directly to your email; you can also follow our Twitter and Facebook pages; and you can also subscribe to our Telegram channel while also joining our WhatsApp group. Follow any of the below links.