NSCDC list of successful applicants 2023 has finally been released, barely two days after Immigration also released their own list.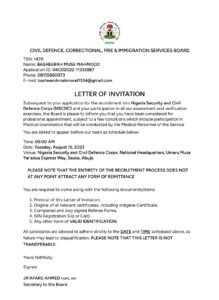 The civil defence list of successful applicants 2023 was released on Saturday afternoon by the Civil Defence, Correctional, Fire, and Immigration Services Board (CDCFIB).
It is for candidates who participated in the computer-based test and physical screening/certificate verification/psychometric evaluation.
Continue reading to know if your name is among the NSCDC list of successful applicants 2023 and learn how to check for your name in the online portal.
Successful candidates are to print their invitation slip, which contains the date and time of their appearance in Abuja.
The appearance in Abuja is for documentation exercises and the issuance of appointment letters, which will also include a medical examination.
The Abuja exercise will hold from Tuesday, August 15, 2023, to Monday, September 4, 2023 at Nigeria Security and Civil Defence Corps, National Headquarters, Umaru Musa Yar'adua Express Way, Sauka Abuja.
You're to note that the date of appearance for each successful applicant varies.
How To Check NSCDC List Of Successful Applicants 2023
Click on the below "NSCDC LIST OF SUCCESSFUL APPLICANTS 2023 LINK".
NSCDC LIST OF SUCCESSFUL APPLICANTS 2023 LINK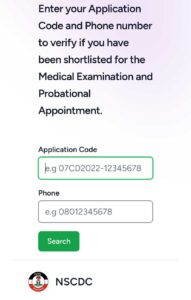 When the link opens, input your Application Code/ID and Phone Number to check for your name.
If you are successful, you'll be allowed to log in and print your invitation letter to Abuja.
If you are not successful, you'll receive the following message.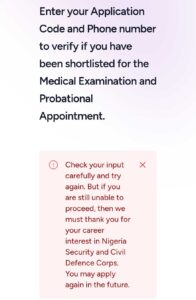 Check your input carefully and try again. But if you are still unable to proceed, then we must thank you for your career interest in Nigeria Security and Civil Defence Corps. You may apply again in the future.
What Are The Documents And Requirements For The NSCDC 2023 Documentation In Abuja?
You are required to come along to Abuja with the following documents and items.
Printout of your Letter of Invitation
Completed and duly signed Referee Forms
NIN Registration Slip or Card
Any other form of VALID IDENTIFICATION
Original of all relevant certificates, including indigene Certificate
Keep checking our website for more updates. You can also use the below comment box to ask your questions, which will be answered immediately.
How Else Can I Always Receive Updates From inform.ng?
Sign up for our newsletter to always receive all our updates directly to your email, and you can also join our WhatsApp and Facebook groups, follow our Twitter and Facebook pages, and subscribe to our Telegram channel. Follow any of the below links to do so.