It's no longer news that the NSCDC shortlist 2023 for physical screening and certificate verification officially came out today, and applicants are currently searching for how to check for their names.
In this article, we will teach you how to check NSCDC shortlist 2023 to know if you are shortlisted or not.
The Nigeria Security and Civil Defence Corps (NSCDC) is a paramilitary agency of the Federal Government of Nigeria that provides measures against threats, attacks, or disasters against the nation and its people.
The screening and certificate verification for the civil defense recruitment will officially take place from Wednesday, June 14, 2023, to Wednesday, June 28, 2023.
Each applicant has their own specific date for screening; CLICK HERE to find out how to check for your screening date and also how to locate your screening venue and the documents and requirements needed for the screening.
Link To Check NSCDC Shortlisted Candidates 2023
Click on the below "NSCDC SHORTLIST LINK".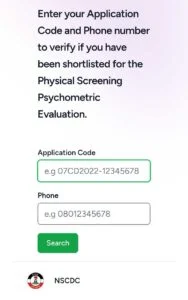 When it opens, input your Application Code and Phone Number to check for your name. If you are successful, you'll be allowed to log in and print your invitation letter.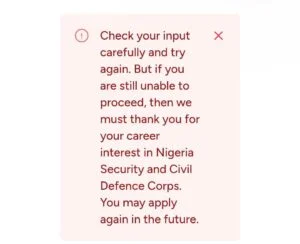 If you are not successful, you'll receive Check your input carefully and try again. But if you are still unable to proceed, then we must thank you for your career interest in Nigeria Security and Civil Defence Corps. You may apply again in the future.
Keep checking our website for more updates. You can also use the below comment box to ask your questions, which will be answered immediately.
How Else Can I Always Receive Updates From inform.ng?
Sign up for our newsletter to always receive all our updates directly to your email, and you can also join our WhatsApp and Facebook groups, follow our Twitter and Facebook pages, and subscribe to our Telegram channel. Follow any of the below links to do so.