Are you eager to know if the Independent National Electoral Commission, INEC Adhoc Staff Shortlisted Candidates 2023 List is out? You are definitely on the right page. Read on!
The INEC adhoc staff shortlisted candidates 2023 is a list of applicants who have been chosen to move on to the next stage of the selection process. If your name is not found on this list, then you are not eligible to move to the next phase.
The applicants can either be staff of Ministries, Departments and Agencies (MDAs), current serving corp members, ex corp members and students.
If your name appears on the INEC adhoc staff shortlisted candidates 2023 list, then you should get ready for the screening tests and for the verification of all the credentials you supplied when you registered.
Kindly note that your likelihood of being among the INEC adhoc staff shortlisted candidates 2023 depends on how well you perform throughout the screening. As a result, it is important you have the proper information required for the process and critical that you prepare thoroughly for the screening and verification.
How To Know If You Are Among The INEC Adhoc Staff Shortlisted Candidates 2023 List
You will be able to know if you're among the INEC adhoc staff shortlisted candidates 2023 through the following ways:
Through your email or phone number.
By visiting the INEC office in the Local Government Area you provided during your registration.
By viewing the PDF files we provided on this page below.
Requirements For The 2023 INEC Ad hoc Staff Screening And Verification
Kindly note that all LGA requirements for the INEC 2023 screening are not the same everywhere; what is required of applicants in Iwo LGA in Osun State might not be the same in Mokwa LGA in Niger State.
So, you're to either check the message you received from the LGA you chose during registration or visit the LGA physically to know the requirements needed.
Some of the messages sent by some LGAs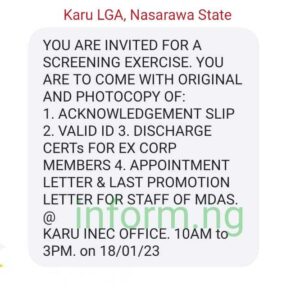 Karu LGA, Nasarawa State

YOU ARE INVITED FOR A SCREENING EXERCISE. YOU
ARE TO COME WITH ORIGINAL AND PHOTOCOPY OF:

1. ACKNOWLEDGEMENT SLIP
2. VALID ID
3. DISCHARGE CERTs FOR EX CORP
MEMBERS
4. APPOINTMENT LETTER & LAST PROMOTION LETTER FOR STAFF OF MDAS @ KARU INEC OFFICE. 10AM to
3PM on 18/01/23.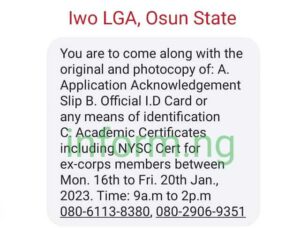 Iwo LGA, Osun State

You are to come along with the original and photocopy of:
A. Application Acknowledgement Slip
B. Official I.D Card or any means of identification
C. Academic Certificates including NYSC Cert for ex-corps members between Mon. 16th to Fri. 20th Jan.
2023.
Time: 9a.m to 2p.m
080-6113-8380, 080-2906-9351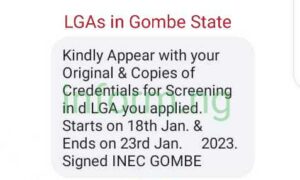 LGAs in Gombe State

Kindly Appear with your Original & Copies of Credentials for Screening in d LGA you applied.
Starts on 18th Jan. & Ends on 23rd Jan. 2023.
Signed INEC GOMBE.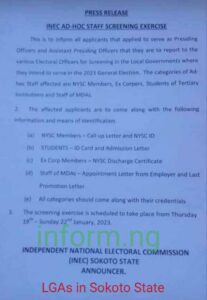 LGAs in Sokoto State

PRESS RELEASE

INEC AD-HOC STAFF SCREENING EXERCISE

This is to inform all applicants that applied to serve as Presiding Officers and Assistant Presiding Officers that they are to report to the Various Electoral Officers for Screening in the Local Governments where they intend to serve in the 2023 General Election. The categories of Ad-hoc Staff affected are NYSC Members, Ex Corpers, Students of Tertiary Institutions and Staff of MDAs.

2. The affected applicants are to come along with the following information and means of identification.

(a) NYSC Members – Call up Letter and NYSC ID
(b)STUDENTS – ID Card and Admission Letter
(c) Ex Corp Members – NYSC Discharge Certificate
(d) Staff of MDAs- Appointment Letter from Employer and Last
Promotion Letter.
(e) All categories should come along with their credentials

3. The screening exercise is scheduled to take place from Thursday 19th – Sunday 22nd January, 2023.

INDEPENDENT NATIONAL ELECTORAL COMMISSION (INEC) SOKOTO STATE

ANNOUNCER.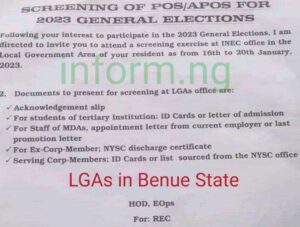 LGAs in Benue State

SCREENING OF POS/APOS FOR 2023 GENERAL ELECTIONS

Following your interest to participate in the 2023 General Elections. I am directed to invite you to attend a screening exercise at INEC office in the Local Government Area of your resident as from 16th to 20th January, 2023.

2. Documents to present for screening at LGAs office are:

✔️ Acknowiedgement slip
✔️ For students of tertiary institution: ID Cards or letter of admission
✔️ For Staff of MDAs: Appointment letter from current employer or last promotion letter
✔️ For Ex Corp-Member: NYSC discharge certificate
✔️ Serving Corp-Members: ID Cards or list sourced from the NYSC office

HOD, EOps
For: REC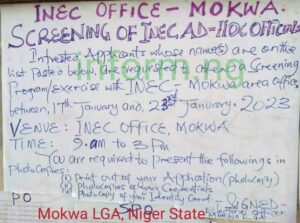 Mokwa LGA, Niger State

INEC OFFICE – MOKWA

SCREENING OF INEC AD-HOC OFFICIALS

Interested Applicants whose name(s) are on the list pasted below, are requested to attend a screening program/exercise with INEC – Mokwa area office, between, 17th January and, 23rd January 2023.

Venue: INEC OFFICE, MOKWA

TIME: 9.am to 3pm

You are required to present the following in photocopies:

(i) Print out of your Application (photocopy)
(ii) Photocopies of your Credentials
(iii) Photocopy of your identity card

Signed
Electoral Officer
Mokwa LGA
Below are some of the general requirements needed for the INEC 2023 screening
Please note that these requirements are essential for you to be selected. If you do not have any of these requirements, you will have to hurry up and make them available, but if not, then you are not eligible. To be eligible, all of the items stated below must be made available.
Staff of MDAs should come with their ID card, appointment letter or past promotion letter.
Current serving corp members should come with their call up letter and NYSC ID card.
Ex corps members should come with their NYSC discharge certificate.
Students should come with their admission letter and student ID card.
You can also appear at the venue of the screening with your acknowledgement slip, National Identity Card (NIN) and original and copies of credentials.
List Of Some Available INEC Adhoc Staff Shortlisted Candidates 2023 PDF Files From Different LGAs
Click any LGA of your choice for an instant download of the INEC adhoc staff shortlisted candidates 2023 PDF file.
INEC adhoc staff shortlisted candidates 2023 PDF file download for more LGAs loading…..
Keep checking our website for more updates. You can also use the below comment box to ask your questions, which will be answered immediately.
How Else Can I Always Receive Updates From inform.ng?
Sign up for our newsletter to always receive all our updates directly to your email, and you can also join our WhatsApp and Facebook groups, follow our Twitter and Facebook pages, and subscribe to our Telegram channel. Follow any of the below links to do so.