On today's Npower news, the management of the scheme has announced what some beneficiaries of the exited Batch C Stream 1 who are affected by failed payments should do to receive their unpaid stipend.
According to the scheme's management, the accounts of the beneficiaries that couldn't receive their stipends became "paused accounts" because they either supplied wrong or incomplete account information.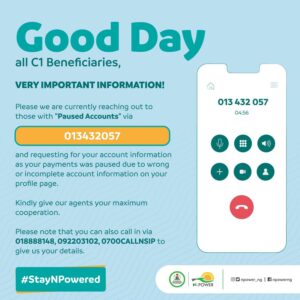 The statement read: "Good day all C1 Beneficiaries, Please we are currently reaching out to those with "Paused Accounts" via 013432057 and requesting for your account information as your payments was paused due to wrong or incomplete account information on your profile page.
"Kindly give our agents your maximum
cooperation.
"Please note that you can also call in via 018888148, 092203102, O7OOCALLNSIP to give us your details."
If you are among those affected, you're expected to act fast to receive your outstanding payment.
Keep checking our website for more updates. You can also use the below comment box to ask your questions, which will be answered immediately.
How else can I always receive updates from inform.ng?
You can sign up for our newsletter to always receive all our updates directly to your email; you can also follow our Twitter and Facebook pages; and you can also subscribe to our Telegram channel while also joining our WhatsApp group. Follow any of the below links.