NPC quiz questions and answers are shared in this article; keep reading to be able to download the PDF file.
The next step in the recruitment process after receiving an invite email, SMS or WhatsApp message is screening, which is why we have provided you with the NPC quiz questions to expect on the day you're invited for screening, which also includes answers to the questions.
What to expect on the day you are invited for the quiz
At this point, you must have received an invite either through the phone number you submitted during registration, through the WhatsApp line, or through the email address you submitted as well. We are aware that there are some individuals that usually get scared once an exam or quiz is mentioned; back in the day, it was usually known as "exam fever." Candidates like these are encouraged not to panic. The NPC quiz will not be as difficult as you may think; this is also because the quiz questions and answers have been provided in this article. All you have to do is download the PDF file below, start going through it, and get familiar with it.
Now, back to the quiz day. On the day of the quiz, you are expected to provide your NPC ID, state and phone number to begin the quiz.
What are the NPC quiz questions?
The quiz questions are five in number. You are expected to answer all the questions in three minutes.
Each of the five questions is worth 20 marks, so the total is 100 marks.
How to download the NPC quiz questions PDF file
We know this is what many have been searching for. You just have to click on the Download NPC Quiz Questions and Answers PDF File button below to download.
Download NPC Quiz Questions and Answers PDF File
You can also check for the NPC Shortlisted Candidates PDF.
What are the 2023 NPC screening requirements for all applicants
On the day of your screening, there are certain things you must be aware of in order not to miss out on this great opportunity you've always awaited. The 2023 NPC screening requirements and what to expect on the day you are invited are discussed below. Continue reading to be duly guided.
Please note that the National Population Commission's (NPC) recruitment review team will conduct the screening exercise in all the states of the federation plus the FCT.
In case you have lost your application ID or access code, read how to retrieve it because you will need it on the day of the screening.
All the prospective ad hoc workers will go through a rigorous screening process before they are fully cleared to assist with the 2023 Population and Housing Census and get paid. This will guarantee that only qualified candidates are hired. When we say "rigorous," we don't really mean that you'll be sapped of all the energy you have; it just means that there is a step-by-step method you must pass through during the screening before you are selected. The NPC made sure to let candidates get screened thoroughly so that only the best were picked.
Also, we will like to remind candidates that it is not possible to send someone to go on your behalf. No matter how difficult it will be to appear on that day, try as much as possible to be on the ground because no one will be allowed to stand in for you. It's just not possible.
The NPC screening will be conducted physically at various LGAs designated centers, which will be made known to every prospective ad hoc staff member via Email, SMS or WhatsApp message.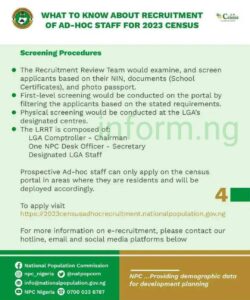 As we mentioned earlier, there are processes for this screening. It is very important to take note of all you will be doing at your screening center, including all the items you should bring.
WHAT TO KNOW ABOUT RECRUITMENT
OF AD-HOC STAFF FOR 2023 CENSUS

Screening Procedures

1. The Recruitment Review Team would examine, and screen
applicants based on their NIN, documents (School
Certificates), and photo passport.

2. First-level screening would be conducted on the portal by
filtering the applicants based on the stated requirements.

3. Physical screening would be conducted at the LGA's
designated centres.

4. The LRRT is composed of: LGA Comptroller – Chairman, One NPC Desk Officer – Secretary and Designated LGA Staff. Prospective Ad-hoc staff can only apply on the census
portal in areas where they are residents and will be
deployed accordingly.

To apply visit https://2023censusadhocrecruitment.nationalpopulation.gov.ng
The 2023 NPC screening requirements include:
Your National Identification Number (NIN).
Your highest school graduate certificate.
And your passport photograph.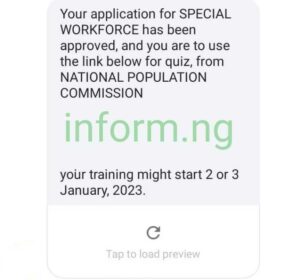 Your application for SPECIAL WORKFORCE has been approved, and you are to use the link below for quiz, from NATIONAL POPULATION COMMISSION

Your training might start 2 or 3 January, 2023.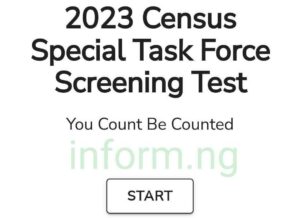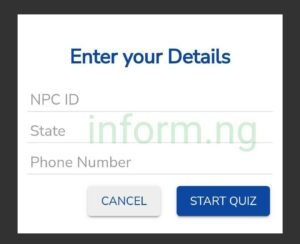 When the applicant arrives for the screening, the NIN, passport and school certificates will be thoroughly checked. A link will also be sent to their phone to write a quiz which is part of the screening and when you open the link, click on START to proceed. After clicking on Start, new fields will appear where you are expected to provide your NPC ID, state and phone number to continue.
After providing it, you'll be taken to a page that houses the quiz, which consists of five questions which we mentioned above on the NPC Quiz Questions and Answers PDF File.
What happens after an applicant has completed their screening at the NPC state office?
After an applicant has completed their screening at the NPC state office, the NPC officer present will demand their application ID or access code, which they will use to change their application status on the NPC website from pending to approved, meaning that the screening was successful.
What should I do next after my application status has changed to approved?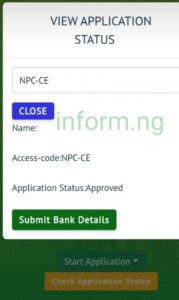 You will now get a new button called Submit Bank Details on the NPC website.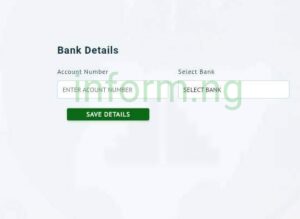 You're expected to fill in your account number and select the bank, which will automatically bring out your name. Then click save details.
Keep checking our website for more updates. You can also use the below comment box to ask your questions, which will be answered immediately.
How Else Can I Always Receive Updates From inform.ng?
Sign up for our newsletter to always receive all our updates directly to your email, and you can also join our WhatsApp and Facebook groups, follow our Twitter and Facebook pages, and subscribe to our Telegram channel. Follow any of the below links to do so.